E-book: how to build the digital workplace
Digitization is transforming the way companies operate, interact and add value – including among their employees. Is your business prepared to take concrete steps toward the empowered collaboration, greater engagement and operational excellence unlocked by the digital workplace?
Empowering digital business collaboration
The journey towards a secure, well-designed digital workplace requires a blended business/technological approach. Our comprehensive e-book explores the building blocks of the digital workplace and offers interdisciplinary insights and tips to smoothen your path.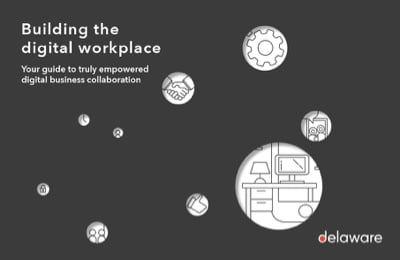 In our e-book, you'll explore:
key tools, challenges and considerations relevant to the digital workplace, including knowledge management, applications and the use of data insights
an in-depth roadmap created by our experts to ensure a smooth digital workplace integration from business case and team composition to user adoption
effective approaches to change management required for a future-proof digital workplace with ongoing impacts
Looking for a broader, more high-level overview of the driving technologies of the digital workplace? Download our e-book on the impacts of digitization, the interaction between customer and employee experience and transforming digital age challenges into opportunities.