E-book: How to empower your employees & keep up with technology
Digitization is changing how companies operate, develop customer-driven strategy and approach business challenges. But many businesses fail to offer the same level of digital transformation to their own employees in their daily work – leading to lower satisfaction and productivity.
Deliver engaging employee experiences
Your company's talent is the foundation of its competitiveness, profitability and ability to thrive in the digital age. As a result, offering them a complete, fully integrated and intuitive digital working environment should be top priority for every forward-thinking business.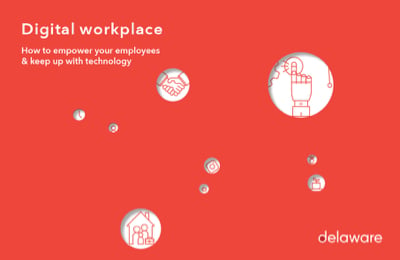 In our e-book, you'll learn more about:
workplace-related digitization challenges such as automation, rapid technological change, information overload and hyperconnectivity;
impacts of the digital workplace on your operations;
the interaction between customer experience and employee experience;
designing an effective digital workplace to meet your unique needs.
Ready for concrete steps forward on your company's journey towards the digital workplace of the future after reading this e-book? Download our multidisciplinary guide on how to build the digital workplace and empower digital business collaboration.